We build WordPress
websites that scale
We're digital solutions partners, with experience building technically-complex WordPress instances at scale.
Custom WordPress Development
Priced per project
Our team of engineers consistently delivers code that is powerful, efficient, and secure. We will work with you on any aspect of WordPress development including themes and plugins, decoupled applications, APIs and integrations, and platform development. You come up with the idea, we'll make it happen.
Strategy and Consultancy
Priced per project
If you are lacking in direction or just need some advice on a difficult problem, someone at Human Made will be able to help. We have broad-ranging WordPress expertise and can help you with issues that include infrastructure, architecture, development workflow, best practices, accessibility, performance and security, and the WordPress REST API.
Infrastructure
Priced per project
We host a number of large scale websites that each get the full attention of our team of AWS certified systems engineers. Your code will receive a full code review, and be hosted on our highly available cloud hosting environments. We will manage your code, and review changes as they come in, providing training for your developers. We also provide development tools to match our production environments. Let us worry about your infrastructure so you can focus on your site.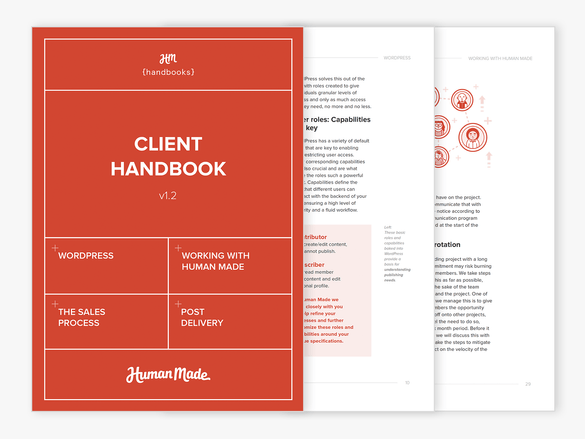 Client Handbook: Building Open Relationships
We've put this handbook together to demonstrate how we work and how we build some of the world's most recognised websites on WordPress. For transparency, we also share our entire sales process; from the first touchpoint to post-delivery.
Download now (4 MB, PDF)
We've worked with clients like News UK, USA Today, and many more to build websites and tools that serve thousands of users and millions of visitors.
Contributing
Open source underpins our business which is why we give back through writing code, putting on events, and community organising.
49
FOSS events organised in 2018
12
No. of WordPress.org teams we contributed to in 2018
53
Talks at open source events in 2018