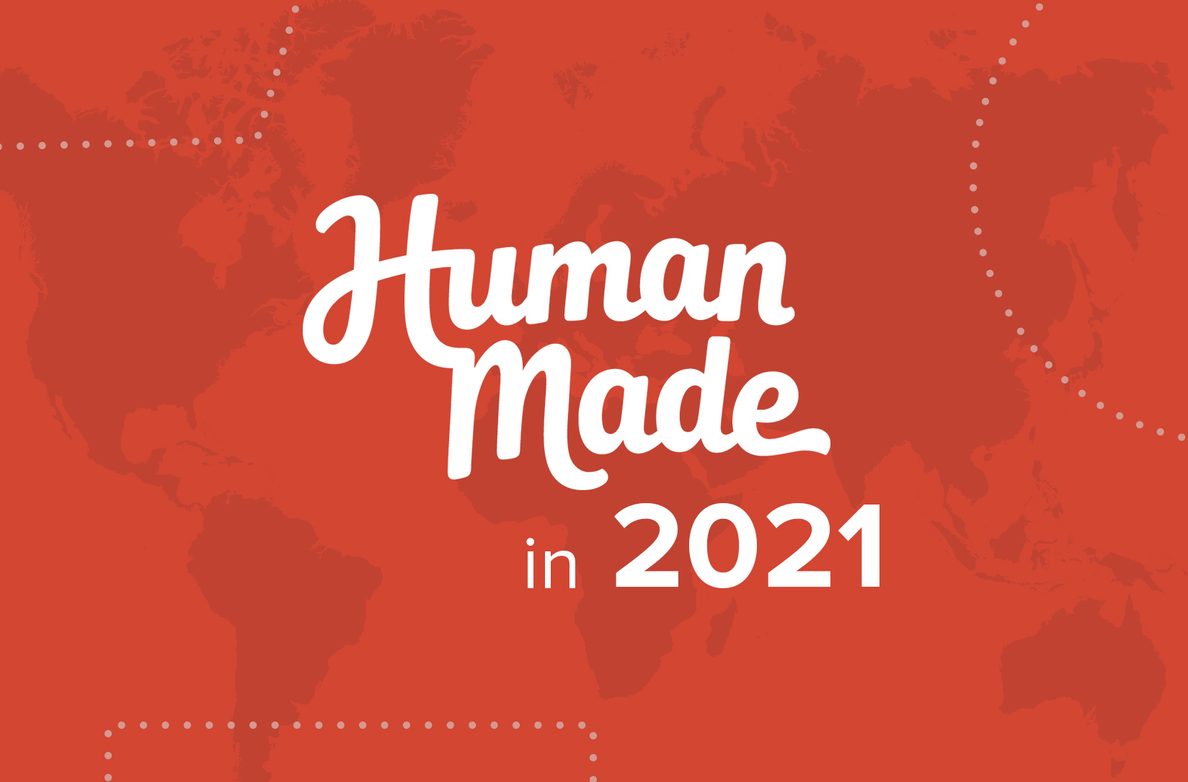 At the beginning of last year, I shared how 2020 was a year marked by adaptation. Against the backdrop of considerable challenges globally, 2021 has been a big year for Human Made, our clients & customers, and for our partners too. It has been our most successful year since we began all the way back in 2010 and raised our excitement and commitment to opportunities we see ahead of us as we settle into our second decade of growth and learning.
The rapid acceleration to digital that we saw in 2020 has continued and it's been a fast-paced year supporting our clients' growth and ambitions as they continue to adapt themselves. We delivered work we're deeply proud of, grew significantly as a team, and welcomed incredible new clients along the way.
2021 was also a huge year for Altis, our WordPress Digital Experience Platform. Read Ryan's reflections on the Altis blog.
People
This has been a tough year for people, the continuing global pandemic is exhausting, and at a human level focusing on work with everything else going on is often overwhelming. Human Made is people and I'm deeply proud and grateful to every single person here for how we all came through together.
This past year we grew headcount by 25% and we are closing in on 100 Humans globally. Along the way we added new countries to our global map, including increasing our presence in South America, Indonesia, and Africa. Part of the joy of working in a globally distributed company is getting to work with folks from all over the world daily, each time we hire we add to our culture and grow in new ways.
We continue to grow globally and remotely, welcoming people from increasingly diverse cultures to our ranks.
Hiring challenges has been a common topic of discussion with friends and peers in the industry and I'm particularly proud of how we've been able to scale hiring through the global hiring crunch. Our approach has been to lean into our significant experience with distributed work and to structure our outreach and hiring process so that we're demonstrating our values and culture front-and-centre throughout. With the global shift to remote work I think there's going to be a lot of folks who're interested in working at experienced distributed companies.
I strongly believe that spending time together in-person is a crucial part of building a meaningful distributed culture and we're feeling the effects of not having been able to get together since Sri Lanka in 2018. We began meeting up as small groups in 2021 and it was amazing to see the energy that came from those. Looking forward to 2022 we're planning a whole company get together in June in Greece, I cannot wait!
We expect to grow our team significantly in 2022, across all 3 regions and a growing roster of roles. I'm particularly excited about continuing to grow our sales and marketing capabilities, bringing our value proposition to a wider audience through the new Altis website and global campaigns. There's so much opportunity for businesses to use WordPress and our platform to power their digital experiences, particularly in SME and large enterprise and I'm excited to do much more here as we continue to grow.
Clients
Like us, our clients have also been dealing with both the challenges of the pandemic, with many of them switching to remote working, and the acceleration in digital business that's come out of it.
In 2021 we welcomed amazing new clients and delivered work we're deeply proud of (work we can't wait to be able to talk about soon!). We continued our growth in large enterprises, publishing, and media. With a quarter of our client-base in the Forbes 2000 and 3 with revenues north of $50B, all using WordPress with Altis and Human Made to deliver critical digital experiences to their employees, customers, and users. Through Altis we're also expanding beyond our traditional core of very large enterprise. The power of a platform is in its ability to bring innovation to a wider audience and it's been gratifying to deliver powerful features and functionality to clients that previously required significant upfront capital investment to develop.
Both marketers and developers across our clients' organisations have been hugely empowered by the advancements made with Altis in 2021.
This year we were able to spend time together in-person with our clients again and it's been amazing to bring that part of how we work back, the creativity and energy that has come out of the kick-offs and workshops we've done this year has been a great reminder of what we've been missing these past few years.
Our global footprint continues to be a strength with new clients and growing relationships across our 3 main focus regions in the Americas, EMEA, and APAC. We expect to expand in all 3 areas in 2022 and I continue to be excited by the interest we're seeing from companies looking to empower their marketing and digital teams to deliver amazing digital experiences on open and agile platforms. There continues to be a huge opportunity to bring WordPress to more businesses and in many ways it feels like we're all still just getting started.
Community
Our engagement with the WordPress community has been greatly diminished by both the lack of in-person events and the general exhaustion of the global pandemic and we're really looking forward to being able to see everyone again.
We've continued to believe in the importance and value of contributing to WordPress and the 5 for the future project and in 2021 we were again one of the leading companies by contribution. We want to do even more in 2022. We were also proud to support the amazing work the WordPress Foundation does and in 2021 we committed to donating at the top-tier, you should do the same!
Next
We expect growth to continue in 2022 and have lots of roles open to support the plans we have for the year. If you're thinking of joining, take a look at our public company handbook to get a feel for what it's like here (we're nearly ready to share our next major iteration on our handbook, look for that in 2022).
2022 is also the year we'll hopefully get back to seeing each other in-person. Whether that's at our company retreat in June, one of the growing number of in-person WordCamps, or just the chance to grab a drink and a chat.
To all our clients, partners, colleagues, friends and family, thank you for being on this journey with us, I can't wait to see what 2022 brings!