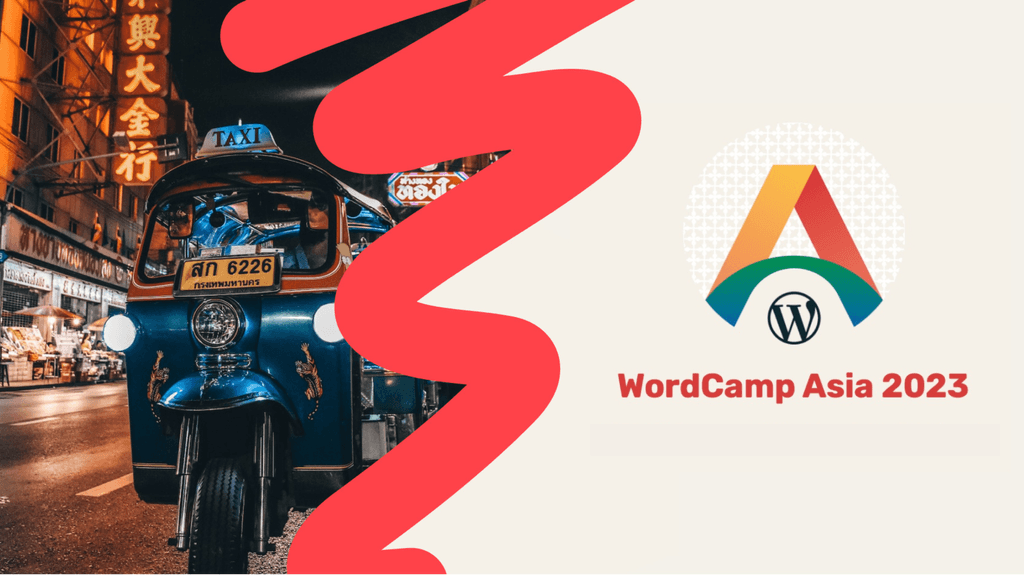 WordCamps are a mainstay of the WordPress community, offering a chance for the world's WordPress community to come together in person. They've been running since 2006, but this event – hosted in the busy city of Bangkok, Thailand, from 17th – 19th February 2023 – was the very first flagship event in the APAC region.
Many in the community have been attending WordCamps for years, so we wanted to find out what the experience was like for the uninitiated. Attending for the very first time was Human Made APAC Allocations Manager Vanita Nandakumar: she reveals what WordCamp Asia had in store for a newbie.
I was nervous yet excited to get my first taste of a WordCamp. I was warned that I would be spoiled in my opinion of WordCamps, as WordCamp Asia 2023 was the first annual flagship meetup held in APAC in the aftermath of Covid-19.
As the APAC Allocation Manager at Human Made and a new polyglots team member, I was stoked about the opportunity to meet my fellow colleagues and the larger WordPress community.
A rundown for the WordCamp noobs
For the uninitiated, WordCamps focus on everything WordPress in a conference-type format. They are community-organised events put together by WordPress users (the elite organisers), and when I say 'users', I mean everyone from casual users to WordPress core developers: everyone can take part by sharing ideas, participating as a speaker, putting up sponsor stalls to talk about their businesses, etc.
In a nutshell, here's what you can expect a 3-day WordCamp event to look like:
Networking opportunities (throughout)
Guided workshops (before and during the event)
Discussion panels (before contributor day)
Informative talks (runs on both event days)
Lots of swag and chances to win prizes (like an ipad, for example)
After-hours parties (for those keen on socialising further)
This year, Human Made's team diversity was in full display, with 16 people in attendance: 2 on the organiser team, 1 on the core team, 2 on polyglots team, and 2 speakers. We flew in from 10 different countries; Australia, USA, UK, India, Japan, Indonesia, Singapore, China, Bulgaria, Switzerland and Philippines. Some of us were meeting for the first time, and others for the first time since the pandemic began. Check out our happy faces!
The event was held at the True Icon Hall at the ICONSIAM, which is a mixed-use development space situated near the Chao Phraya River. Here, guests experienced a mixture of shopping, dining and entertainment happenings that celebrated the local culture.
Since 2009, WordCamps have been accompanied by localised variations of Wapuu – the beloved, open source WordCamp mascot. Each Wapuu is created by local community members and normally features something representing local culture. Wapuu appears everywhere at WordCamps, on everything from signage to swag, and of course, WordCamp Asia came with its own mascot, Chao Phraya Boat Wapuu!
Day -1: Human Made meetup
The day before WordCamp Asia kicked off, Human Made hosted The Enterprise Gap Meetup at Fab Cafe in Bangkok. The event was dedicated to discussing how to close the gap WordPress as a platform and ecosystem, and the needs of its enterprise customers, and was attended by people who are creating and executing solutions in the WordPress Enterprise space.
The event saw flash talks from Ivan Kristianto, Senior Web Engineer, Human Made, on Google-docs-like collaborative editing in WordPress, and from Crowd Favorite CEO Karim Marucchi on The DXP Enterprise Gap. Miriam Schwab, Head of WordPress Relations at Elementor delivered a talk on meeting and exceeding the expectations of enterprise with WordPress, and Stéphane Boisvert, VP Engineering at XWP, spoke on The Privacy Revolution and its Impact on the Enterprise​.
Karim and Miriam also joined a panel discussion with Noel Tock, Human Made's CGO, Myles Lagolago Craig, CEO at XWP.
Day 0: Contributor Day
Contributor Day is for those who'd like to contribute to the open source or other initiatives like photos, community building, the polyglots (translating) team, etc. Whether you are a seasoned contributor or just getting started, this space allows you to network and collaborate with like-minded individuals and get stuck right into contributing across different teams for WordPress directly. Contributor Day is for everyone!
Pictured below is Human Made's Jon Ang, who was an Organiser Lead at WCAsia and also is our Global Director of Sales, kicking it off in style.
Day 1: highlights
A big draw on Day 1 is the 'Ask Matt Anything: Q&A' virtual talk session. It features Matt Mullenweg, one of the co-founders of WordPress and CEO of Automattic.
This session was undoubtedly the most sought after by the thriving WordPress community. At Human Made, we are lucky to count Mike Little, the other co-founder of WordPress, as one of our colleagues, and so we understand the frenzy in getting face time with one of the co-creators of the largest open source Content Management Systems (CMS) in the world!
Human Made speakers at WCAsia
Human Made's Director of Agency Operations and longtime Polyglot team member Petya Raykovska took to the stage for her talk, 'Leading with Cultural Intelligence – strategies for breaking the invisible boundaries of global business'.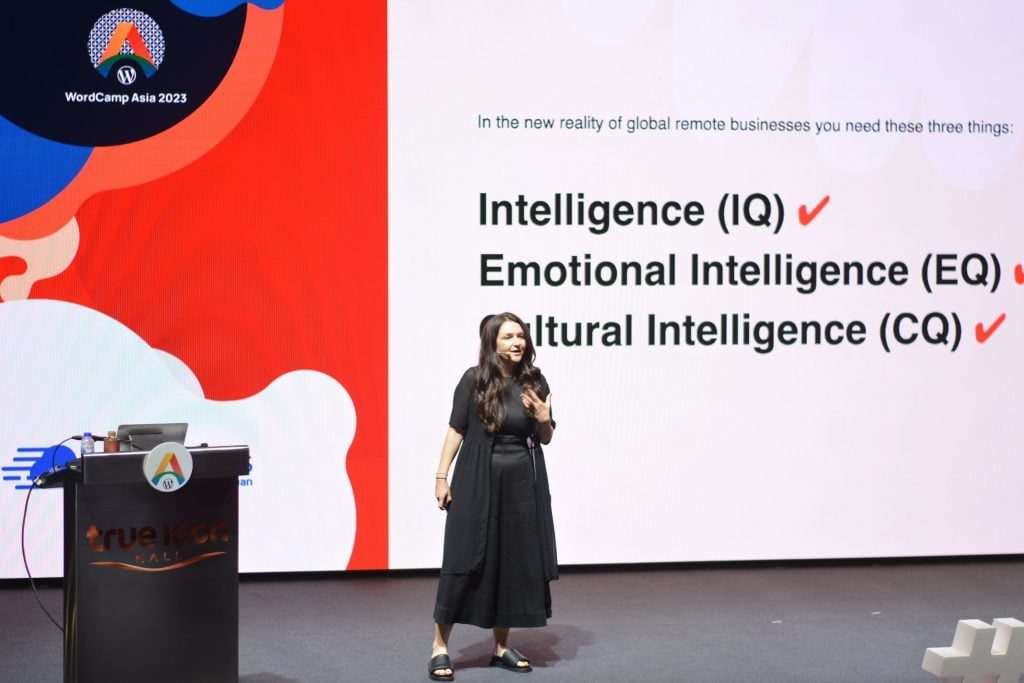 If you weren't lucky enough to watch Petya's talk live, you can catch it right here.
Also taking to the stage was K. Adam White, Principal Engineer at Human Made. His talk, 'Getting the most out of the WordPress REST API', focused on sharing practical tips for using the REST API in themes, plugins and headless apps.
Catch up with KAdam's talk right here if you missed it.
Hungry for more? You can watch the rest of the speakers from Day 1 of WC Asia 2023 by following the links below.
Day 2: Highlights
Day 2 saw the Human Made team hang out and watch a few talks, walk around the sponsor tables, and network. I was surprised by how many like-minded people I met and how enthusiastic and approachable folks were in discussing all sorts of topics around WordPress.
I had some wonderful chats that definitely broadened my horizons, and I connected with a lot of individuals from across the Asia-Pacific region and beyond. Despite the eclectic mix of age, race, language, and roles within WordPress, you could see the intimacy and love of old acquaintances catching up, as well as noobs like me making bonds for a lifetime.
On the home front, it was wonderful to spend quality time with my peers and my manager, and to learn more about the industry, and future expectations. It was great to have the chance to talk about the next steps we'll be taking towards our north star of closing the enterprise WordPress gap, and to have general good times with the team and new friends over food and drinks.
Across the four days I was was in Bangkok, the whole experience felt like a bit of a whirlwind – I wasn't quite ready to leave when it was coming to an end! I'm hopeful we can have a redo soon, and I'll definitely be attending future WordCamps if I get the chance.
To watch the talks from WC Asia day 2, click through below: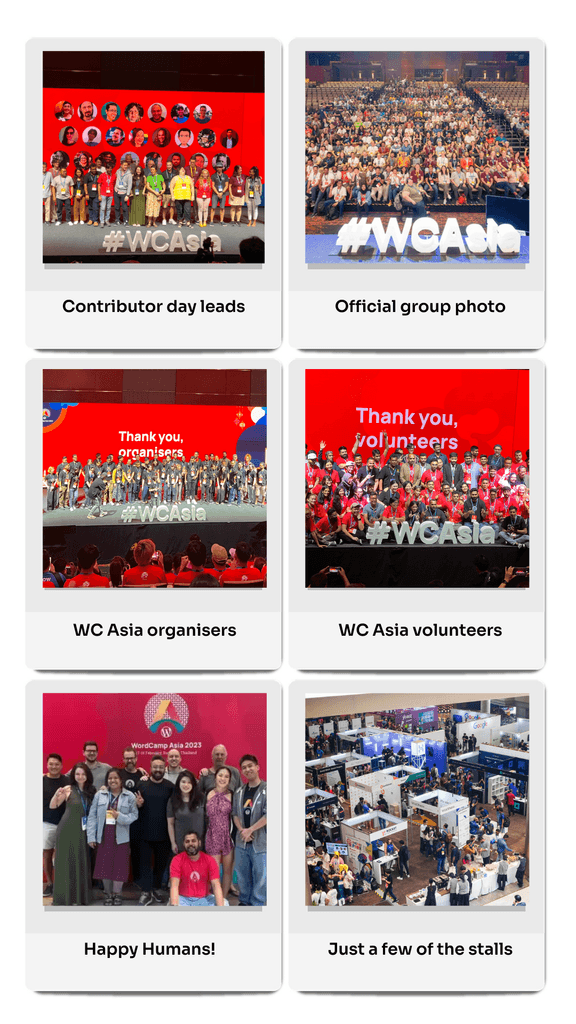 WordCamp Asia Roundup
3,185 livestreams
1,724 registrations
1,299 attendees
653 contributors
84 volunteers
60 speakers
55 sessions
53 organisers
44 sponsors
7 media partners
1 community
I couldn't summarise a WordCamp without paying tribute to the mammoth effort of everyone involved in pulling this fantastic event together. Everyone's participation is voluntary, and two of our Humans, Jon Ang and Ivan Kristianto, lent their skills to the Organiser Committee on the Sponsors team and Volunteer Wrangling team respectively.
If you're new to WordCamps and considering attending the next one, you're in for a treat – WordCamp Asia 2024 will be held in beautiful Taipei, Taiwan! Check out the announcement video right here. We'll see you there!