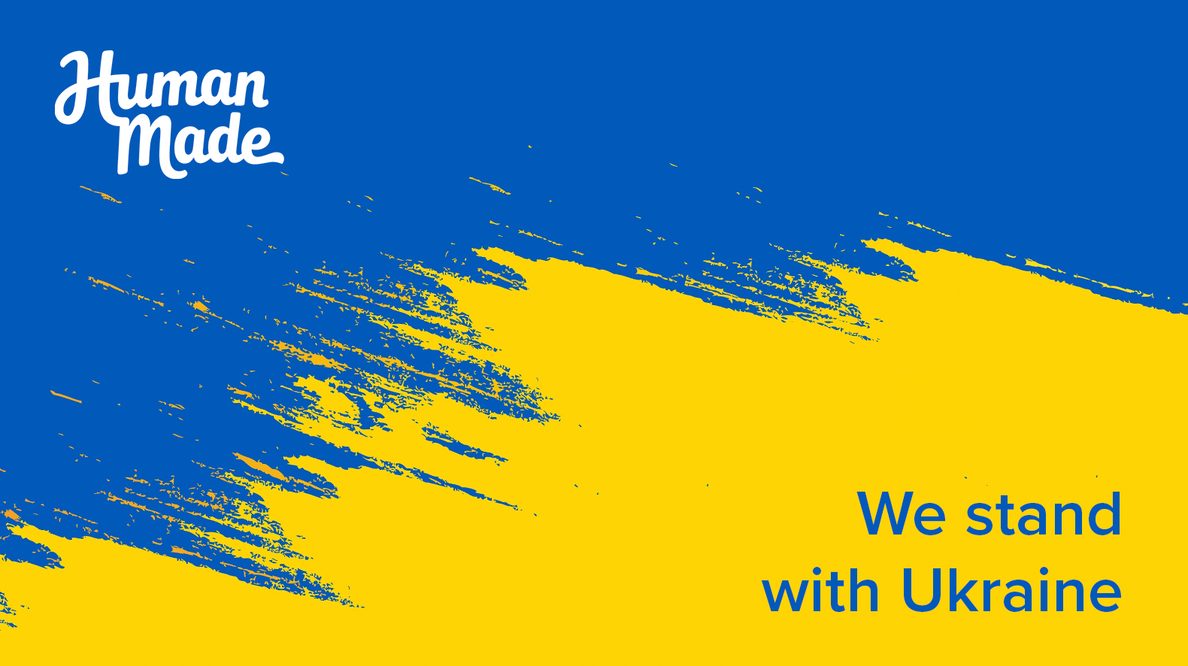 Over the past month, we've been watching the devastation that the Russian army has been wreaking on the people of Ukraine. It has left me and other humans heartbroken and feeling powerless. Many of our people are in Eastern Europe, many of us have friends and family in Ukraine, and we will all be dealing with the repercussions of this invasion for decades to come.
It can be hard to know what to do. A few of us are in proximity to Ukraine and are volunteering time. But that is not possible for the majority of us. What we can do, though, is offer financial support to those organisations that have the infrastructure to address the humanitarian crisis. To do this at Human Made we have implemented a payroll giving system which is available to all of our people (contractors and employees) and we are matching donations up to £10,000 to charities that are on the front line of the crisis.
I wanted to write up what we've done in case other remote companies are wondering how you can help. Maybe there is something that you can learn from Human Made's approach. If you need support to set up a scheme yourself I'd be more than happy to provide advice, just send me an email. You can also find the specifics of the process in our employee handbook – the content is creative commons licensed so feel free to copy and paste it for your own purposes.
What is Payroll Giving?
In many countries, charitable donations are tax-free. A Payroll Giving (or Workplace Giving) scheme enables employees to donate directly from their payroll to registered charities. This happens prior to tax so it means you can make tax free donations, enabling you to give more and/or spend less. Employees can, of course, claim tax back themselves at the end of the financial year, but by implementing a payroll giving scheme it means that they don't have that additional administrative burden.
As an indication of the impact that this can have on your donation, in the UK a £100 donation to a UK charity would cost £80 if you are in the 20% tax bracket, £60 for a person in the 40% tax bracket, and £55 for someone in the 45% tax bracket.
Payroll giving benefits employees, charities, and companies:
For employees:
You can give in a sustained way to charities that you care about
You can increase the value of your donations
You don't need to provide bank details
You don't need to carry out a tax return to claim back tax
You can change charities or cancel at any time
You only give while you are earning
For charities:
Charities have sustained income stream that they can use to plan
They receive the tax along with the donation
It increases a donor's length of commitment to the organisation
For Human Made:
We can donate, together, as a team to causes that matter to us
By working together we can have an outsized impact
We can match donations to causes that are in line with our values
We ensure that our corporate responsibility is part of our culture
We can build a sense of the causes that matter to everyone at Human Made
Payroll Giving in a Distributed Company
In the UK Payroll Giving is a pretty straightforward programme to set up. However, when you become a fully distributed company (as with all things!) it becomes more complex. Taxation and approaches to charitable donations differ country to country, we have to deal with different bodies and have different processes. We also have a large number of contractors and we don't operate in their particular countries.
At Human Made we try to create as much parity as possible in the benefits and support we offer to everyone who works for us. This isn't always possible as there are country to-country differences that we can't always mitigate, but everyone at Human Made is pretty much treated the same. This means that when we started thinking about Payroll Giving we wanted to make it available to all.
For Employees
Human Made is incorporated in three countries, the United Kingdom, Australia, and the USA. We explored our options in each of these countries:
UK – this is where we have the highest number of employees and where our head office is. Payroll giving is a common scheme in the UK so we signed up for Payroll Giving
Australia – our Australian employees complete an internal form with how much they would like to donate. We deduct that from their gross salary and their total donations through the year are shown on their annual PAYG summary.
USA – we investigated different organisations to facilitate this but they were set up for companies much larger than Human Made and had high sign-up fees. As our US employees have to complete their own tax returns at the end of every year we decided that it isn't necessary to donate pre-tax, but we still match donations.
For Contractors
We wanted to provide the same opportunity for contractors – i.e. that they can donate prior to taxation and that we will match donations. There is no organisation that can take care of this for us so we are administering it internally. We wanted to make the process as simple as possible so we focus on a small number of charities that we also match donations to.
For contractors to participate in payroll giving:
They add a minus line item to their invoice which includes the donation, e.g. Donation: Save the Children -$100, and they deduct that from their total invoice.
At the end of every quarter Human Made makes donations to the charities.
Donation Matching
As well as creating an easy process for people to donate, we have decided to match up to £10,000 of donations to charities that are supporting humanitarian relief in Ukraine. This is a way of encouraging people to donate and will also maximise their donations. To do this we needed to select a group of charities that are in line with Human Made's values, with some regional (where our employees are located) but also international. We wanted specifically to support organisations focused on refugees, children, medical aid, and disaster relief. Therefore we are matching donations to:
Our Responsibility
We are living through world-changing times – first a pandemic and now a brutal war rages in Europe. I have a deep sense of responsibility to everyone at Human Made to make sure that their employment is secure and that in a tumultuous world we can provide a bit of sanctuary. I also feel a responsibility to help pull together the desire that we all have to support the people and organisations who are on the frontline. It feels like whatever we do it won't be enough to address the devastation, but it is something. And I encourage other remote organisations (and any organisation really) to look at how you can pull your team together to have a greater impact than what you might achieve separately. If everyone can do that, then maybe we can make a positive difference.
(Just to reiterate – our handbook is licensed under Creative Commons. You can grab our process from here and re-use it, or send me an email if you want to chat).