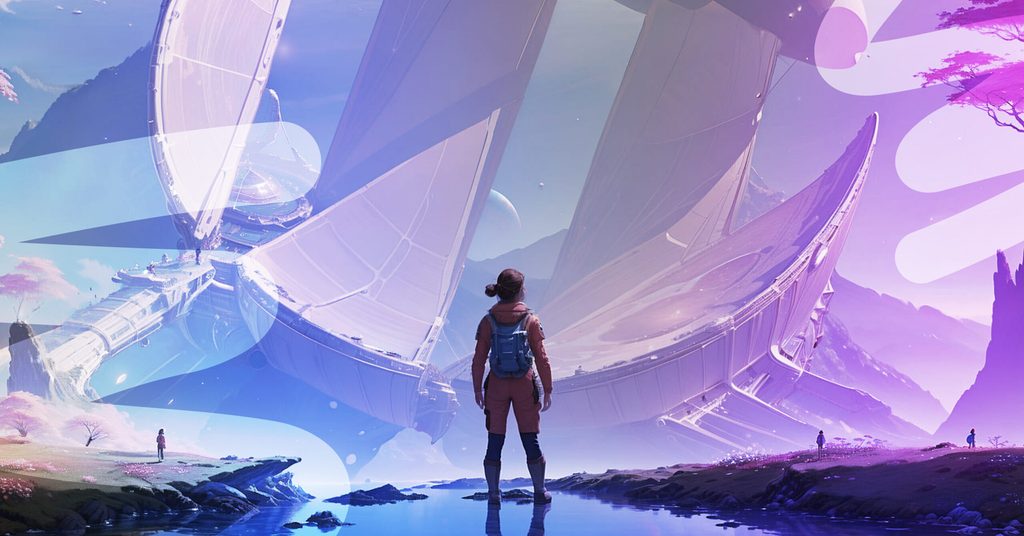 September 14th saw a whole host of AI experts take to the stage during AI: The next chapter to share the latest and greatest insights on using artificial intelligence in enterprise teams. With appearances from both co-founders of WordPress, researchers, academics, and people are the very forefront of AI development, it was definitely one to remember. You can check out the recordings from the day here, and also see the results from our audience polls.
Our host for the event was Human Made Director of Agency Operations Petya Raykovska. Read on for Petya's key takeaways and all the best bits…
So much talent, so little time
Like many others, I've always learned from the best in the field. AI has been on the forefront of every tech conversation for the last year, and I honestly felt I was lagging behind. Hosting our AI: The next chapter event gave me an opportunity to catch up quickly, and on so many levels!
In five sessions, we were taken on a real journey through AI's impact on business and society. The sessions were so varied – from looking at some tools reshaping how we build with WordPress, and hearing from people like Human Made and Altis CTO Joe Hoyle and Digitas Dubai's Head of PMO & Delivery John Garner, who are already helping enterprise clients benefit from bringing AI into their platforms, through to the sessions zooming out and examining the broader effect on AI on society with both WordPress Co-founders Mike Little and Matt Mullenweg, as well as Dr Eleanor Drage, host of The Good Robot podcast.
It's hard to think of a tech innovation as impactful and transformative as AI. It's exciting to think we're right at the start of this journey as well!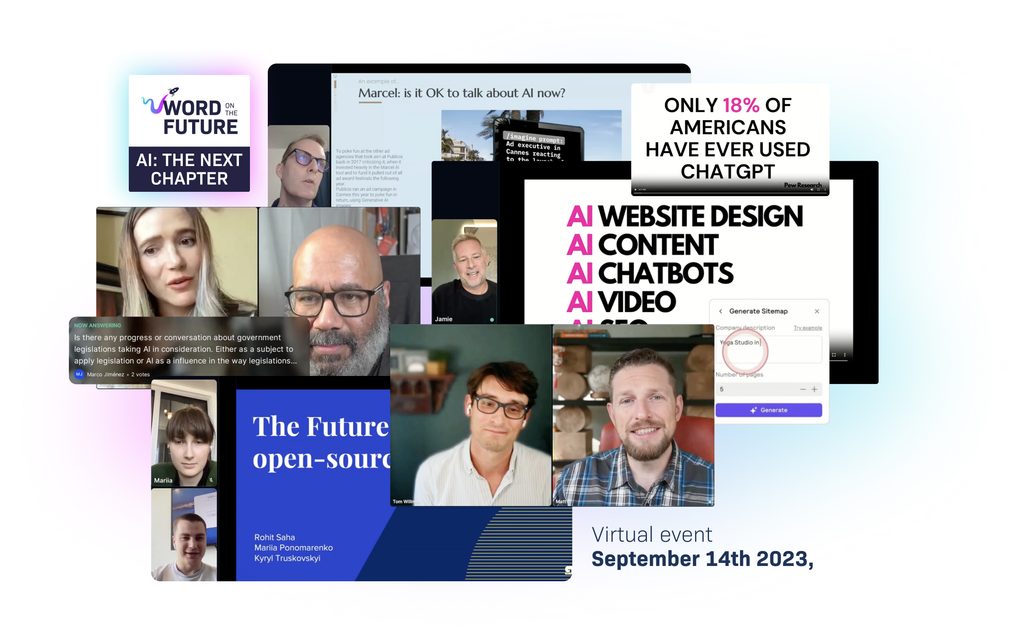 What I didn't know before
I admit, when OpenAI's ChatGPT launched back in December I was off the grid, taking a break from work and tech, and I came back in January into a new world full of picture perfect visuals, endless opportunities, and some big ethical issues that were no longer hypothetical. All of a sudden everyone was talking about AI, and you could drown in content and never read enough.
Thanks to our amazing selection of speakers and topics in AI: The next chapter, I am now aware of the top 9 or 10 big ethical issues surrounding AI. WordPress Co-founder Mike Little and Dr Eleanor Drage touched on many of them during their session, and Yoast's Carolyn Shelby reassured us that people in the SEO field won't lose their jobs to robots.
Thanks to the host of the Pootlepress YouTube channel, Jamie Marsland, and Digitas Dubai's John Garner, I've now seen real live examples of implementation of AI for editorial workflows and newsrooms and people operations – two fields that have always been at the forefront of my professional interests.
I will admit that some of the more complex technical sessions had me scratching my head. But Mariia Pomonorenko and Kyryl Truskovskyi from Georgian raised a big challenge – the future of AI is Open Source, and it was wonderful to see both people in the audience and our other AI: The next chapter speakers engage in an active discussion around that statement, as well as raising challenges of their own.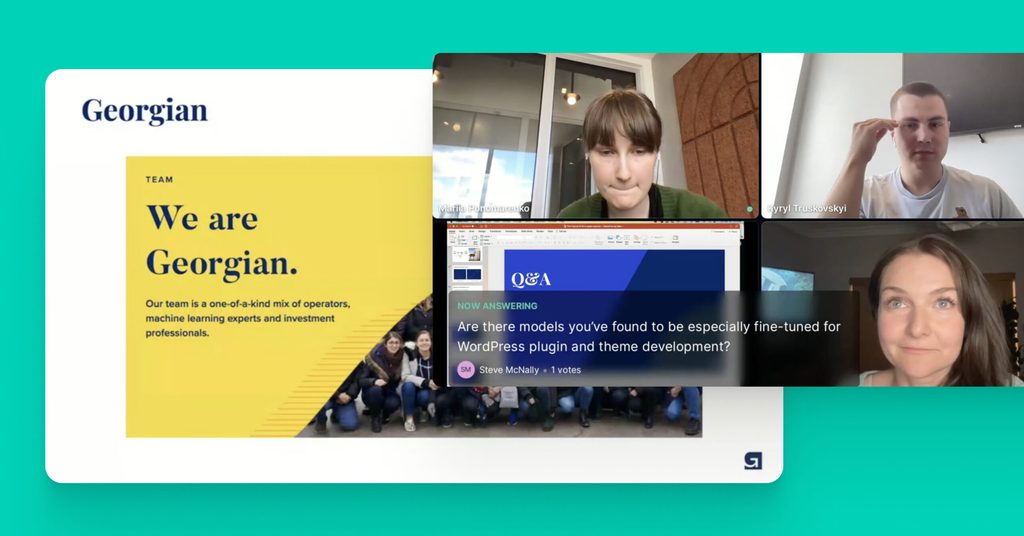 The WordPress community and friends
More than 600 people joined us live for the event, and in each session we saw active and robust discussions, as well as getting to experience the passion of the WordPress community as we know and love it, and the excitement around the opportunities AI brings to the field. It was great to see so many new faces as well as well-known ones.
Thank you to all who supported and encouraged our speakers, asked insightful questions, and shared their feedback and positivity with us throughout the four hours of the event.
The good robot
It's hard for me, as someone who grew up with Phillip K. Dick, not to wonder how people will harness the power of Artificial Intelligence now that we're living in a real sci-fi novel. It feels almost surreal to be a part of a company and a community that is at the forefront of pushing the boundaries of what's possible and creating real life magic in front of our eyes.
It's equally important to see the big questions being asked and addressed – questions around legislation, equality, protection from bias, and AI mistakes. I'm sure I will be rewatching the session on why AI is an opportunity for good tech by Mike Little and Dr. Elenor Drage multiple times.
What's next for AI?
With so much innovation, one thing is for sure – we will keep seeing mind-blowing ideas put in practice, and in a really, really short time. As Joe Hoyle said in our last session – hypothetical ideas have been there for ages, and it only takes one really good product to be launched that puts one of them in practice to kickstart an entirely new hype cycle.
I wrote down Jamie Marsland's three predictions for AI in WordPress and will keep coming back to these as time passes by.
The AI battle will move closer to where the customer first interacts with WordPress at the hosting company level
AI content becomes dynamic and intelligent
Authentic content and brand become even more important
I'm particularly interested in whether Jamie's third prediction comes true. At the (literal) end of the day, above the excitement around the opportunities to optimise processes and workflows, even whole industries, using AI, one question is still at the forefront of my mind: how do we protect authenticity in the era of Artificial Intelligence? What do you think?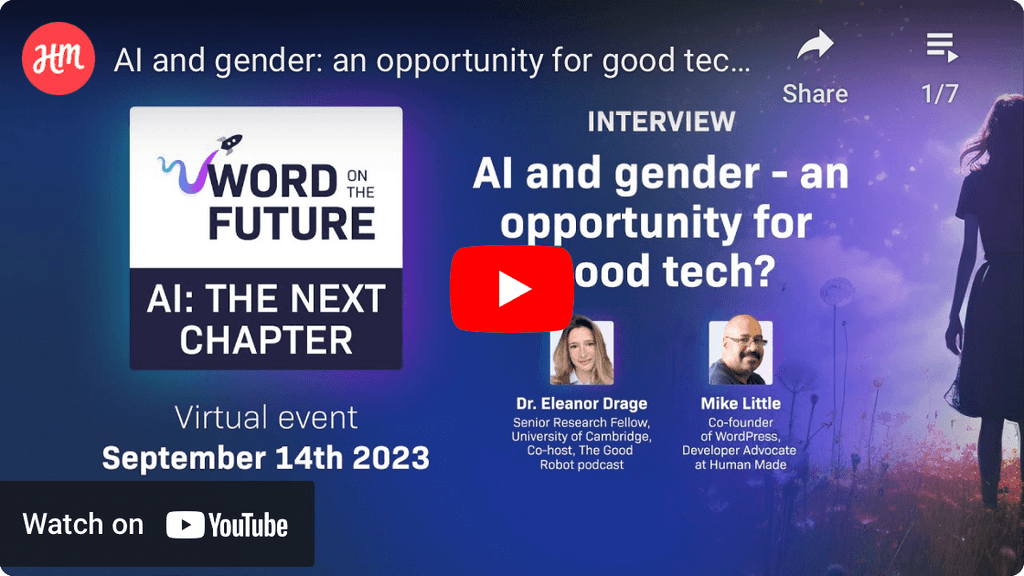 You can check out the recordings from the day here, and also see the results from our audience polls.
Got questions around how AI can work for your business? We've got the answers. Get in touch for a tailored AI for WordPress consultation.